Bob's Favorite Steam Locomotive Images/Movies
Last touched whenever the last entry was...
---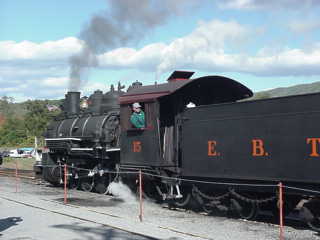 East Broad Top #15, 2001
I grew up around trains and steam locomotives while my father volunteered at the Ohio Railway Museum, in Worthington, Oh. Chasing steam locomotives is a bug that hasn't died.

Wilmington & Western 58 builder's plate
W&W's #58 builder's plate.

Wilmington & Western 58
Wilmington & Western 0-6-0 switcher #58 pulls into the Greenbank station 12/19/2006 with the railroad's Santa special. 3.8Mb AVI movie.

Great Western #90
Ex-Great Western #90 makes a grade crossing at Strasburg during a the September, 2006 Day Out with Thomas event.

Lafayette runby
Lafayette (B&O 4-2-0 #13 replica, built at the Mt. Clare shops in 1927 for the Fair of the Iron Horse) makes a runby at the B&O Railroad Museum during an Oct, 2006 event. It's pretty interesting when the replica is old enough to be a museum piece in it's own right!

Lafayette Movie
Lafayette (B&O 4-2-0 #13 replica, built at the Mt. Clare shops in 1927 for the Fair of the Iron Horse) does a run by in Oct, 2006 at the Baltimore and Ohio Railroad Museum. 1.6 Meg AVI movie.

Just how big are a PRR K-4's Drivers?
A fall 2004 tour of the Strasburg "Backshop" found Pennsy K4 #1361's drivers at the shop to be retired and turned on their wheel lath. These are 80-inch drivers and they are big!

Cass Shay #11 rounds the bend into Whittaker and lets the world know about it
Cass Shay #11 has a great whistle. Half scared little Maggie to death. The lady beside us said "My god, you'd hear that if you were dead!" It's a fine Lima hooter! 15 sec MPG movie. 1Mb download.

Cass Scenic Railroad # 11 number plate
In 2004 visited Cass. Here's the number plate of Shay number 11 that was doing the pushing that evening on the dinner train. During the stop at Whitter, we watched the fireman rest and guzzle down Gatoraid. These locos are hand fired; and it takes thousands of pounds of coal to power them up that mountain side.

N&W 1218 switched in Conley yard, South Columbus, Oh circa 1988
Norfolk and Western 1218 ran through Columbus, Ohio almost every summer during the late 1980's. It was great fun chasing and photographing her. I like this image because it includes a railroad worker.

N&W 1218, Lockborne, Oh, 1989
Ex. N&W 1218 was one of my favorite targets when it was operating. I shot this with old fashion Tri-X black and white film, 180mm Nikkor lens and a long wait.

ex-N&W 475's Number Plate
I shot this close up of the former N&W class M's number plate in 2000. Later, some creep stole it and Strasburg had to cast a new one. I've always had a special place for this engine; for many years a Class M was stationed in hometown Columbus, Oh. and I've heard my father relate stories about it. The class M as a 4-8-0 wheel arrangement; a very rare beast in the United States.

PRR's John Bull
It's always easy to ignore what's close to home. We made a trip to the Smithsonian's American History Museum to see the John Bull, a very early American built locomotive.

East Broad Top Grade Crossing Runby, 2002
In 2002, we trekked to central PA to see several EBT locomotives under steam. It was a cold, windy, fall day, but this nice movie made it worth it (although Cathy might not agree!)

Ex-N&W 475 Racing Across the PA Country Side - Easter, 2003
This mpg movie shows one of Bob's current favorite locomotives, former N&W class M #475 pulling a train on the Strasburg RR in 2003. 1Mb movie, shot with a Sony Mavica. Gotta love that N&W freight whistle!


Comments To:bbunge@ladyandtramp.com
---
All photos, images and html on this site are copyright, Robert Bunge, 1997-2003. All rights reserved.
Back to Bob's Homepage.